인사말
가치창의재단은 2018년 8월 산업통상자원부 소관 비영리법인으로 첫 발을 내 딛습니다. 우리 재단은 치열한 국제무역경쟁 속에서 우리나라 기업들이 수출경쟁력을 높이기 위해, 우리 기업의 제품 및 서비스와 과학기술, 문화예술 등 고부가가치 창의활동 결과물과의 융합·접목을 도모합니다.

이를 통해 우리나라 기업 제품의 고급화와 차별화를 부각시켜 수출의 양적확대는 물론, 수출제품의 고부가가치화를 실현해 실질적인 무역촉진에 이바지하고자 합니다. 앞으로 많은 관심과 성원 부탁드립니다. 감사합니다.
재단법인 가치창의재단 이사장 임 수 빈
Our Mission
The Value Creativity Foundation was established as a non-profit under the jurisdiction of the Ministry of Trade, Industry and Energy in August, 2018. Our foundation aims to promote Korean corporate exports in the fiercely competitive realm of international trade. We aim to merge high value creative output with established Korea corporate output, combining products, services, science and technology, and the cultural arts.
In this way, we hope to contribute to the improvement and differentiation of Korean products. We also expect to contribute to an increase in the quantity and quality of Korean exports. Let's work together to promote trade and realize a real world improvement in the value of Korean products! Please do your best to support us with this project moving forward. Thank you.
Chairwoman of Value Creativity Foundation, Inc.
Lim Soobin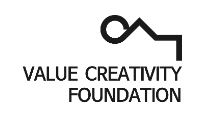 가치창의재단 CI소개
CI를 구성하는 2개의 정사각형 모양은 각각 '산업'과 '산업예술'을 의미합니다. 각 정사각형이 점과 선으로 확장되며 조화롭게 전진하는 모습은 국제무역 경쟁력 높이기 위한 '우리 기업의 제품 및 서비스'와 과학기술·문화예술 등 '고부가가치 창의활동 결과물'과의 융합·접목을 나타냅니다.

주색인 Blue Color는 가치창의재단의 방향성인 '자유', '희망'을 의미하며, 이는 수출경쟁력 확보에 따른 무역촉진을 이끄는데 가치창의재단이 선도적인 역할을 하겠다는 의미를 담고 있습니다. 또한 한 가지에 머무르지 않고 자유롭게 변화하는 색상은 유연성, 창의성, 조화로움을 표현합니다.
Value Creativity Foundation CI
The symbol for CI is composed of two squares, one representing industry and the other representing the industrial arts. The lines, points and formation of each square represents a harmonious increase in international trade competitiveness. The two concepts of "industrial goods and services" and "high value creative output" that combine in such realms as science, technology, culture and art have been fused together in this symbol.

The indulgent blue signifies the Value Creativity Foundation's direction toward the concepts of "freedom" and "hope". This also represents the Value Creativity Foundation's role of leading in the promotion and securing of export competitiveness for the arts. This hue is also an expression of four interlinked concepts: the freedom to change, flexibility, creativity and harmony.